There's no denying it, if you keep doing the same thing you will keep getting the same results. The bigger your goal the bigger and bolder the actions you will need to take to accomplish it. Yet many of us stay stuck, busy, even unhappy because we are afraid of the risk involved in taking a bold step.
What does it mean to be bold? It means showing an ability to take risks. Being confident and courageous in your actions. Requiring yourself to be courageous and daring. It means being will to accomplish something despite the risks.
People who choose to be bold are inspiring not just because they get big things accomplished, but because they also instigate growth, progress, and movement for themselves and others around them, says Inc. magazine columnist and best-selling author Kevin Daum. It takes boldness to create Fresh Tracks.
The question quickly becomes what is a bold action for you?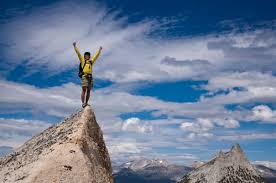 Singing out loud in public? Showing your picture on your website? Having a voice and speaking up for yourself or sharing your opinion? Making a sales call? Asking for money? Quitting your job and risking security?
Here's the thing. What's bold for me is probably different than what's bold for you. However, the way you feel after you make a bold move, after you push yourself and do something risky, that feeling is universal. Taking a bold action creates a powerful sense of strength inside of you. THAT feeling of empowerment and confidence is available to each of us. What's required is taking the bold action.
In our Fresh Tracks with Kelly Robbins interview with Bold Betties founder Niki Koubourlis, Niki shares that tackling an outdoor adventure can be the catalyst for knowing that you are capable of way more than you previously thought. Conquering an outdoor adventure can give you the confidence to create a change in a different part of your life.
One bold move can be the catalyst to creating your Fresh Tracks.
The change that happens is not necessarily in the act itself, but it's inside you. When you take a big, bold action there are feelings that go along with that! Fear is usually one of them.
After that comes the realization that you DID IT. There is confidence, pride, courage and much more. You become a different person. Who you are 'being' changes because you realize you can 'be' more. Be different than you were.
Your job is to capture the powerful feelings associated with the power in yourself, the "I did it!!!" feelings, and bring that confidence and the vibration of those feelings to the other areas of your life you are focusing on.
If you want to create Fresh Tracks you need to be bold. If you are too afraid to take the next step in your journey, take a bold step in another area. Perhaps an outdoor adventure. Or reading at a poetry slam. It shakes up your stuck, fearful energy and just may be the catalyst to the next tracks on your journey.
What is the next bold move you can take today?
Are you ready to make a bold move? Reach out for a complimentary consultation with Kelly now!