Examining the role endings have in your new beginnings
According to William Bridges, author of Transitions: Making Sense of Life's Changes, each change or transition has three stages. They are Endings, the Neutral Zone and New Beginnings.
I am focusing on endings this week because they set the course for the next two. Why are endings so important? Unresolved endings impede our movement into the neutral zone, which is a necessary part of the transition process.
Are you struggling creating something new? It might because of how you ended what preceded it.
Take a look at how you've ended major events in your life. Marriages, relationships, businesses, trainings, and other commitments.
Objectively reviewing how you have (or have not) acknowledged the endings in your life can be an enlightening experience. Understanding how you've handled transitions in the past will ultimately allow you to be conscious during your current or next transition, giving you the opportunity to choose how you react.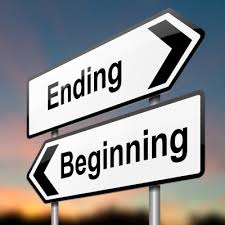 Take some time now to reflect on changes you've experienced in your life. Are there any patterns you see? Let's specifically take a look at how you handle your endings, as they affect how your beginnings start.
Change always requires you to let go of something before the new thing can start. This is the Law of Sacrifice. For example, you must end your job to step into retirement. You must end an unhealthy relationship before stepping into a healthy one. You must end making poor health choices and eating on the couch all night to enjoy a healthy and fit lifestyle.
Do you fight and resist endings? Do you acknowledge them and accept them? Do you avoid them or pretend they are not happening? Do you embrace them and welcome them? Are you usually not aware you are in an ending? Do you just want to hurry up and end so you can start your new thing?
It's not that these experiences aren't meant to end, but it's how you handle them that is worth reflecting on. Remember, a caterpillar's life must end before it cocoons and reemerges as a butterfly. The caterpillar doesn't fight the metamorphosis, it eats and eats (preparation) to sustain itself through the transition.
The phoenix is another symbolic example of change. When the Phoenix perceives its impending death it ignites itself into a magnificent fire. In time, it reemerges from its own ashes – reborn, renewed, and very much alive.
How do you handle endings? Are you in one now and if so, what can you do to embrace the ending rather than fight or avoid it? How can you honor the ending as a part of your metamorphosis into the new?
Struggling with an ending or beginning? Reach out for a complimentary consultation with Kelly now!