Olympian Ester Ledecka knows firsthand the rewards of cutting Fresh Tracks, creating an astounding upset in winter sports history by doing her own thing her own way.
Winter sports enthusiasts know – skiers aren't good at snowboarding. And snowboarders can't ski if their life depended on it. The two sports are completely different. Both the mechanics of the sports and the culture of each are night and day. In fact, the ski industry is known for snubbing snowboarders and consider snowboarding more of a "performance" than a true sport.
Along comes Czech Ester Ledecka – who didn't give a hoot about athletic norms as she became not only the first woman to compete in two sports in any winter Olympics, but she also won two gold medals; one in women's super-G Alpine skiing and the parallel giant slalom in snowboarding.
This was a complete upset in the Alpine ski world. Why? Let's take a look….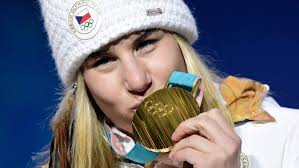 When Ester raced the super-G she was the 26th skier to come down the mountain – that's how far behind she was in the ranking. The race had already been called – photos of the medalists had already been taken!
Ledecka skied the super-G for fun, just to see how well she could do because she could. She won by .01 seconds and was so caught off-guard by her gold medal that she hid during the interviews. She wore her googles to her press conference afterward because, in her words, "I was not prepared to be at this ceremony, and I don't have any makeup."
Let's take a look at two things Ester did to bring herself to this record breaking place in the Olympic winter sports community…
 Mastering the Law of Thinking
Ester first skied at age two and tried snowboarding at age five (because her brother was doing it). As she grew she trained in both sports and actually had separate coaching staffs and schedules in order to develop both skillsets. Ester refused to listen to advice to specialize in one sport – which she had been told to do since she was eight.
Ester made up her own mind about what she wanted to do, did the work to make it happen, and focused on doing her best. She did not set her limits on what others told her was possible. In an interview after her win, Ester shares "I have been dreaming of this moment since I was a little child… A lot of people were telling me that it is not possible to do both sports and to be on a high level in both sports and today I proved that it is possible."
Ester would later say that skiing the super-G as a boarder rather than a skier may have given her an advantage because of her mindset. "I was standing there as a snowboarder a little bit in my heart, and all the girls are just (Alpine) specialists and there was a lot of pressure on them," Ledecka said, recalling her thoughts when was at the start gate. "I was just, `C'mon, just do the best run you can, skier.'"
When asked what she would do if she were pressured to choose one sport she replied she would choose a different coach instead.
 Mastering the Law of Success
Ledecka is a snowboarder by trade and has only competed in skiing for two years.
She had never placed higher than 29th and came into the Olympics ranked 43rd in the world cup standings. Ester was happy to be the first person to ever compete in both sports at the Winter Olympics as that was her goal. She started the winning race in the 26th spot, beating the first-place winner by .01 seconds.
"I was probably the only snowboarder on site," she said. "All the other girls didn't risk a lot. There must be a lot of pressure on them. I was just trying to do my best run."
Ester is dedicated, disciplined and focused – which is why the Law of Success is the Universal Principle that led to her ultimate gold medal. The main worry her coaches have is that she never wants to get off the slope, which in Alpine skiing can be dangerous.
"She is absolutely focused," says her skiing coach Thomas Bank.
Her coaches say that because Ester both skied and boarded she was able to see the mountain differently when Alpine skiing. She was able to act more like an artist and create her own path rather than focusing on technique and best practices others have mastered.
The question to ask yourself is…
Where are you "staying in the lines".
Where are you doing what's expected of you rather than what you desire?
Do you have the support system in place to support your decision?
Are you expecting to succeed?
Overview
Belief
In herself. Didn't listen to or follow advice from experts to specialize in one sport.
Universal Laws in Play
Law of Success – Every one of us is designed to succeed because the Universe is conspiring in your favor. Always.
Law of Thinking – Your dominant thoughts are what you manifest
Results
1st woman to compete in two Winter Olympic Sports. Two gold medals.