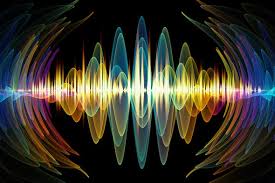 Let's take a look at the powerful energy of Love itself. Love is hard to describe. It's not something we can see or touch, yet we feel it and recognize it when we experience it. Love is a powerful energy and in fact, Love is the very substance the Universe is made of. It is the core energy of everything. As we struggle with different events in our lives, it's empowering to take the time to answer the question, "What's Love got to do with it?" and bring to light the energy of Love in the situation.
Hinduism has a beautiful myth about the origins of Love. In the beginning, there was a superbeing called Purusha. This being was without desire, craving, fear, or indeed the impulse to do anything at all—since the universe was already perfect and complete. Then the creator, Brahma, took out his divine sword and split Purusha in two. The sky became separate from the earth, darkness from light, life from death, male from female. Realizing they were incomplete, each set off passionately to reunite with its severed half seeking to be whole again. As humans, we too are seeking unity, and Love is the word we use for that search.
Our life's journey becomes a quest to know our Oneness. Our Oneness with each other. One Oneness with a Higher Power. Our Oneness with the Universe. The ultimate question is how do we know Love?
Individually we can begin by expecting to receive and actively give Love. In every interaction, in every event, in every moment of life. Here are a few more things we can do to activate the energy of Love throughout each day.
We can ask and choose to see Love everywhere. Expecting to receive Love means looking for Love and knowing it's there – even if you struggle to see it.
Take time to learn about yourself and how you express Love by learning your Love language. Then take that a step further and learn the Love language of those around you.
Explore prayer. Use prayer as a tool for knowing your Oneness with God. We don't pray asking someone in charge for something. We affirm the energy of God, of Love, is everywhere. We know and feel this truth in every situation and see it in every person, place, and thing.
It's easy for life to get us down. People make us angry. Situations don't turn out as we planned. We can overcome life's obstacles and live each day in a rich and fulfilling way, by taking time to ask, "What's Love got to do with it?" and choosing to see Love in its many variations.
Kelly Robbins, MA is the author of Trust Your Next Step: Creating the Confidence to Cut Fresh Tracks and produces the Fresh Tracks with Kelly Robbins podcast. Grab a copy of 10 Steps to Creating Your Fresh Tracks now for free here: https://kellyrobbins.net/theedge/